Gacha Club is the latest sequel of the Gacha series, and it's all about the social experience since it serves as a vast platform where players can freely interact using their Gacha characters. But aside from being a social and dress-up kind of game, players can also go to battle on Gacha Club.
As a direct sequel to Gacha Life, it also has the combat elements that are present in Gacha World. So, welcome to the Gacha Club Battle Mode. So, how to battle in Gacha Club? If you're a newbie, don't fret! There are several tips you can read below to help you navigate battles and farming activities.
Make Sure To Read The Character's Skills
The fights over at Gacha Club are very simple. First, the characters will attack automatically, and then the enemy will strike back. It's a turn-based battle, and this process repeats until either of the sides is defeated. While the characters are fighting, the mana bar is charging up. Your characters will use this mana to power up their special skills, which is very useful during battle. Remember, the skills of Gacha characters will vary since, and some of them still need to be unlocked.
Don't Forget To Upgrade Your Team
Most aspects of your Gacha characters can be upgraded, which you can find under the Units menu. Upgrading them will make their skills stronger. Aside from that, it allows them to hit and receive more damage. Keep in mind that you can enhance your character's levels and the levels of their skills, so these are two separate things.
The character's levels include their attack, defense, and HP. On the other hand, the skill levels include the potency of their active and passive skills. You will need different types of materials and gold to increase these levels To gather gold, you must also participate in mini-games.
Start With The Story Battles First
The first thing you need to do if you want to focus on the battle aspect of Gacha Club is to focus on the Main Story. Every level you get to beat in the Story Battle will give you lots of gems and valuable materials, which you can use to power up your team. As a result, you're able to take on even more challenging battles in the Story Mode.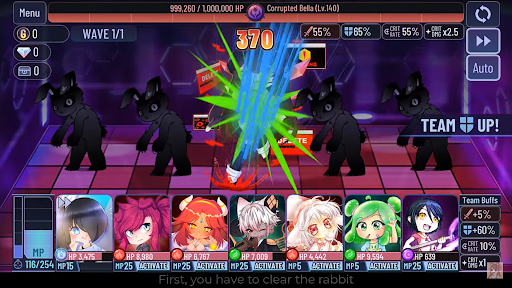 Choose The Best Characters For Your Team
In Battle Mode, it's essential that you choose the right mix of characters to make up your team. They have to complement each other's skills, so they can create the right combo. It will help them defeat their enemies because you know how they're going to attack. So when it's time to build your team, save up for the ones that are worth the money.
Take Time To Play Mini-Games
If you're taking a break from playing in battle mode, then you can explore mini-games. These are the kind of games that provide short bursts of fun and excitement. Lemo & Yumi Dance, Mascot Whack!, Memory Match, and Usagi vs. Neko are the four available mini-games in Gacha Club. Aside from being mere pastimes, these mini-games can also give you extra gold and other rewards! In other words, the resources you get here can help you advance in Battle mode.
Have Fun
Gacha Club is all about character interaction while having fun with them in many different ways. You get to be creative by customizing your characters, thinking of strategies to win in Battle Mode, and creating your own story with engaging scenes using different backgrounds in Studio Mode. So, have fun and don't forget to become competitive at the same time. This game rewards creativity and hard work.
Now that you've learned these crucial tips and strategies, it's time to play Gacha Club! But there are also other Gacha games that you can check out here at Games.lol. For example, you can also try Gacha Life or Gacha World.