Pokémon UNITE has been around a little over a year to date. And 7 months after its release marked the first appearance of a Mythical Pokémon in the roster. Introducing the Psychic and Ghost-type Hoopa Pokémon UNITE with a Pokedex number 720.
This gen 6 takes on the role of a Ranged Supporter with a unique ability to unbind itself and change from Ghost to Dark-type temporarily. Being the first Mythical Pokémon to join the lineup, the Pokémon UNITE Hoopa moveset is more suited for high-level gameplay. Hence, it could take a while to get used to playing Hoopa.
Since it can deal a sizable amount of damage, it can be a key addition to your team once mastered. Visually, Hoopa looks like a genie with 2 horns on both sides. If you don't like this default look, skins are available to purchase via the in-game shop for customization.
You can use our build guide to bring this Mythical maestro to life. Consequently, you can also check other guides including Blissey Pokémon UNITE and our Pokémon UNITE tier list for more info.
How to Get Hoopa Pokémon?
Hoopa can be obtained for free during the in-game event upon its release. If you've missed it, there is still another way to get your hands on this Mythical Pokémon. Purchase Hoopa from the UBC shop for either 500 Aeos Gems or 10,000 Aeos Coins.
Best Pokémon UNITE Hoopa Moveset
As previously mentioned, Pokémon UNITE Hoopa moveset is quite complex and requires you to think ahead. Plus, you also should completely harmonize with your teammates should you want to dominate the match and win.
Firstly, the passive gives Hoopa Pokémon UNITE access to berries for quick rejuvenation. We recommend going to the bottom or top lane together with an attacker since Hoopa is a Ranged Supporter.
In the early game, Hoopa doesn't stand out that much. While both Astonish and Confusion deal AoE damage and CC effect, get Confusion for that extra AoE damage explosion. The choices for Hoopa's mid-game skills depend on whether you want to be on the offensive or supportive end.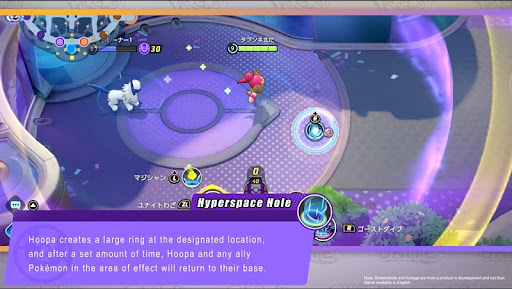 At this phase, we opted for Shadow Ball over Phantom Force. The former damages the enemy and lowers their Sp. Def while the latter teleports Hoopa to the enemies to deal AoE damage.
It is only when Hoopa Pokémon UNITE reaches level 6 onwards that it becomes a league of its own as a powerful Pokémon UNITE Supporter.  Hyperspace Hole is, in fact, one of the most OP Pokémon UNITE Hoopa moveset in the game.
Not only does it deal AoE damage but it also teleports Hoopa and allies to any location. Consequently, Hyperspace Hole increases everyone's movement speed. Trick, on the other hand, is great for shielding Hoopa and one ally. If no teammate is present, Trick increases Shadow Ball's damage instead.
Hoopa Pokémon UNITE Ultimate Move
In the current meta, Hoopa is at the top of the Supporter tier list thanks to its insanely potent UNITE move, Rings Unbound. While this Pokémon UNITE Hoopa moveset is not on the offensive. It transforms Hoopa into its maleficent Hoopa Unbound form. During this time, Hoopa temporarily gets 2 new AoE skills and a significant increase in max HP.
Hoopa Pokémon UNITE Build Items
There are different items you can choose depending on how much damage you want. Hoopa's Rings Unbound move is its bread and butter. For this utility-focused Hoopa Pokémon UNITE build, the following Held Items are highly advisable.
Energy Amplifier makes more sense so Hoopa can spam its UNITE move due to this item's CD reduction. Plus, the attack output boost allows Hoopa to be a bit more aggressive in the game.
Buddy Barrier synchronizes well with Rings Unbound since this offers a shield to both Hoopa and an ally with the lowest HP. Having that extra protection allows Hoopa and its teammates to stay in the fight longer.
Score Shield gives extra protection whenever Hoopa tries to score goals by also increasing its max HP.
As for the Battle Item, Eject Button is still the safe choice for this Hoopa Pokémon UNITE build. Not that Hoopa actually needs it but since Hoopa is more of a supporter rather than an attacker, this is a logical choice.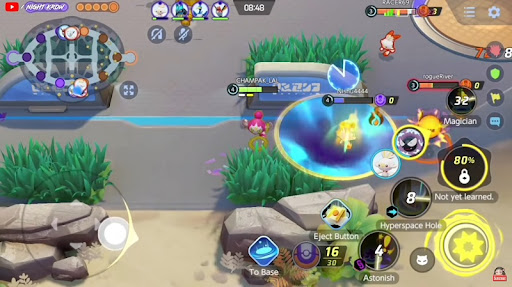 If it's an offensive Hoopa Pokémon UNITE build you are after, then you can choose X Attack as your Battle Item. This boosts Hoopa Pokémon UNITE's damage output, especially when using its UNITE move.
This concludes our recommended Hoopa Pokémon UNITE build guide. In the meantime, you can also check other Pokémon UNITE tips and tricks we have in store for you here in Games.lol. Or you may want to look into our Mobile Legends Heroes pick for 2022 plus other useful tips and tricks for a wide array of games online.