One of the best and most fun racing games that you can play right now is Need for Speed: No Limits. Developed and published by Electronic Arts, it's a role-playing racing game where you play a wannabe street racer role. Your goal is to become the king of street racing in the game, and to do so; you will need the assistance of the fastest and most powerful supercars to be able to win races.
Of course, acquiring and driving fast and powerful cars are just the beginning. You will also need to upgrade them to make sure that they can compete even at higher levels. To be crowned the street racing king, you will need to beat several street racing masters in the game. To do that, you will first need to overcome their racing crew members, and you will need powerful vehicles.
So, this article will discuss the overall gameplay and important things you will need to know about the game for you to play better. The guide will provide information about the things that will help you reach your goal of becoming the king of street racing. If you're ready for a fast pace and speed process, then let's go!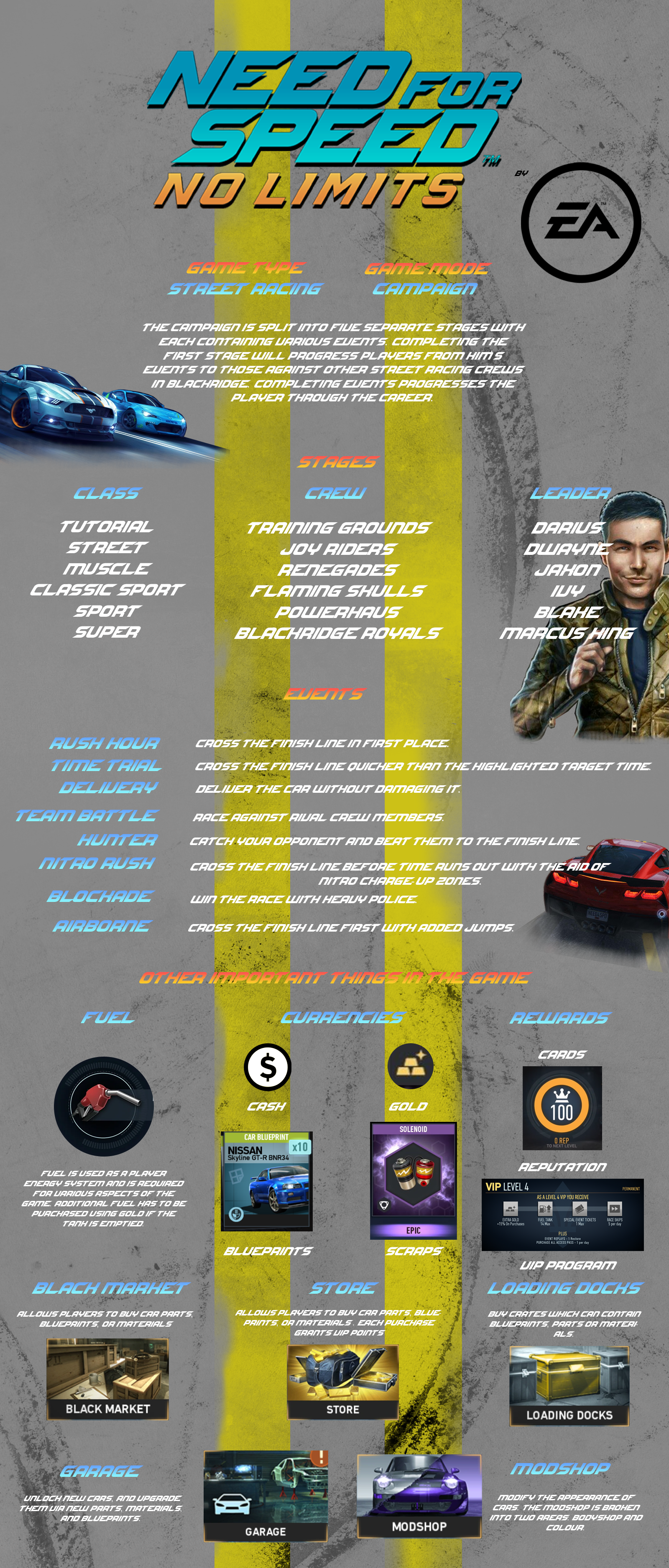 Racing Campaign Game Modes in Need for Speed: No Limits
The first thing you will need to know about Need for Speed: No Limits is its Campaign game mode. It's the main game mode that the game offers, and it's also where the main story is being played. The campaign mode is split into different stages for you to complete. In each stage, you will be facing a street racing crew (except for the first stage) and use a certain class of vehicles. Let's look at each stage of the campaign mode.
Training Stage
The training stage of the campaign mode is the Training Grounds. In this stage, you will be learning the basic controls of the game and the more advanced ones like drifting. Races will be easier here, and the vehicle you will use is the first Street Car you will use for the entire stage until the first parts of the next stage. This part is the stage where you will also learn about upgrading and equipping parts.
The final racer that you need to beat here is Darius. He is a racer that you will often encounter in the game. Before the campaign's tutorial stage, there is also a basic tutorial where you will learn basic controls and speed up. You will be using a powerful vehicle there, but it's only usable during the tutorial. To use it in races, you will need to collect its blueprints and unlock it.
First Stage
The first stage is where the real fun begins, as this is the stage where you will battle your first Race Crew. The Crew that you need to beat here is the Joy Riders, which Dwayne led, who is also the stage's last racer you must defeat. In this stage, you will need to apply everything you've learned, including equipping parts and upgrading them. This stage is also where you will see the value of upgrading since racers are tougher here.
You will also be able to use the Street Class vehicles like the Subaru WRX STI. You need to acquire these vehicles, and to do that, you will need to collect car blueprints. The number of blueprints you will need will depend on the vehicle. They're usually given as rewards for winning races or for opening crates. Once you defeat Dwayne, the second stage is unlocked.
Second Stage
In this stage, you will battle against the Renegades that are led by Jaxon. It is where you will also need to use the Muscle Car class like the Ford Mustang. Though an upgraded Street Class vehicle can still get you through the first parts of the stage, their Horsepower is not enough to beat the other crew members who need the more powerful Muscle Car class. Once you've defeated Jaxon, you can proceed to the Third Stage.
Third Stage
The third stage is to start using the Classic Sports cars in the game like the Toyota Supra or Porsche 911 Carrera (1993). The racing crew that you will face here will be the Flaming Skulls led by Ivy. Races are hard here, and you will need a combination of fast and powerful cars, as well as great driving skills. Once you've defeated Ivy, the Fourth Stage is unlocked.
Fourth Stage
Now, this part is where the required vehicle to use would be the Sports Class. An example of a car in this class is the Porsche 911 Carrera (991) or the Nissan GT-R R35. The Crew that you will face here Powerhaus, led by Blake. Once you defeat Blake, the last stage in the game is unlocked, and your path to becoming street racing king will be close.
Fifth Levels
At this level, you need to complete the Need for Speed: No Limits to achieve your goal of becoming the street racing king. The Crew you need to beat are the Blackridge Royales, which are led by Marcus King. It is also a part where you will need to use cars that belong to the Super Class, as this is the class of vehicles your opponent uses. Some cars belonging to this class are Viper GTS, the Mercedes-Benz SLS AMG Black Series, and more.
These are powerful vehicles that can help you conquer this stage and claim the top spot from Marcus. You need to collect enough blueprints to acquire them.
Need for Speed: No Limits Special Events
Inside each stage, there will be several events that you will need to complete aside from the races against Crew members. You will need to complete them to advance to the next race on the stage. Below are some of the events that you will
Nitro Rush – Use the charged-up nitro to cross the finish line before time runs out quickly.
Rush Hour – Be the first one to cross the finish line.
Time Trial – Reach the finish line faster than the highlighted time.
Delivery – Deliver a car to its destination without scratching or damaging it. Every time you scratch, a time penalty is added.
Airborne – The racetrack will feature ramps for your vehicle to jump. The goal is still to cross the finish line first.
Hunter – Chase your opponent, who has a head start, and beat them before crossing the finish line.
Team Battle – This event is where you battle against rival Crew members.
Blockade – Police will block the racetrack; the goal is to win despite the blockages.
Other Important Things to Remember in Need for Speed: No Limits
Aside from the campaign, there are also other things you need to know about when you play Need for Speed: No Limits. Below are the important ones:
Fuel – This matter is the energy system that the game uses for you to participate in races. You will have ten fuels to use, and they will replenish over time. But if you want to replenish them quickly, you need to spend 30 gold. They also become full whenever you level up.
Events will cost 1 – 3 fuels, so you will likely play only 3-5 races at a time before you need to replenish fuel.
Currencies – There are two types of currencies in the game, Cash and Gold. Gold is the premium currency, which means it's harder to obtain. It can also be used for purchasing premium crates on the Black Market or Loading Docks. Cash is the other currency, which can easily be earned by winning races. It's used mainly for equipping and upgrading parts or building vehicles.
Rewards – Whenever you win, you are usually rewarded with cards; the cards will contain either parts, blueprints, materials, or cash. Some races will be specific on what type of reward you will get, others will provide three cards, and you need to pick 1 to reveal what the reward is. Aside from cards, you're also rewarded with Reputation, which is the driver's current level. You can also get VIP levels, but only if you spent money on the store.
Black Market – The e in-game's store where you can buy parts, blueprints, or materials using cash or gold.
Loading Docks – This part is where you can get crates containing various items you can use. Crates will contain either parts, blueprints, cash, or gold. You are given five free Classic Crates and one free Premium Crate each day. You can also purchase them with Classic Crates costing 5000 cash and a Premium Crate costing 100 gold. There's also the Legendary Crate but is available once you reach a certain level.
Store – The place where you can buy gold using real money. Each purchase will provide you with VIP points, which will help in increasing your VIP level.
Garage – The site where you can unlock cars that already have enough blueprints and equip and upgrade parts on your existing vehicles.
Modshop – The place where you will be able to modify your vehicle's appearance, like adding new paint, stickers, and so on.