Racing has always been one of the most popular sports since during the last decade. Even when video games started becoming popular, street racing games have always been well-received by a lot of people. The adrenaline rush that players get while racing is most likely the key reason why street racing games are ever so famous.
Join the millions of players across the world who love street racing games. You do not have to be a professional and licensed driver to play. Are you ready to dive into the thrill and action? Then check out our recommended best street racing games to play for free on your PC!
1. Real Racing 3
Get ready to race around the world with real sports cars in Real Racing 3 from Electronic Arts! This racing game not only includes real Formula 1 cars but also the actual motorsports racers. Real Racing 3 is one of the most highly acclaimed street racing game franchises. With its realistic sports cars and racers, it has even set a new standard for racing games.
What makes Real Racing 3 even more fantastic is it boasts authorized licensed tracks with forty circuits. Get your gears and skills ready as you drive over 250 fastidiously rendered cars from famous global manufacturers. Drive vehicles from Porsche, Chevrolet, Audi, Bugatti, and Aston Martin on tracks set at 19 real-world cities anytime, anywhere. Compete with anyone today!
2. CSR Racing 2
The most popular drag racing game returns with an even fiercer and faster set of cars in CSR Racing 2! Start prepping your vehicle, check your engine and rev it up as you get into an unending drag street racing games action. CSR Racing 2 by NaturalMotionGames Ltd simulates actual driving conditions by delivering realistic drag racing action on your computer screen.
Show off your superior driving skills as you drive custom-made vehicles like the McLaren Senna, Ferrari SF90 Stradale, and Bugatti La Voiture Noire! Team up with friends and compete with players all around the world to see who can steer the wheel the best in this street racing game.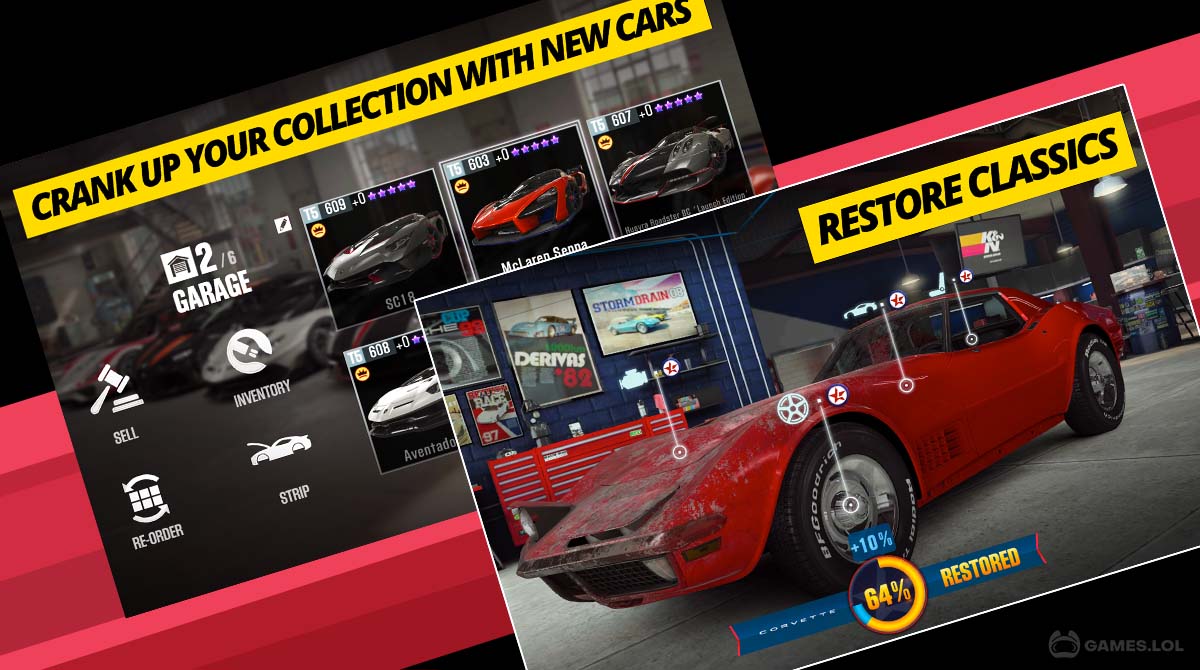 3. CarX Drift Racing 2
If it is drifting street racing games you want, it is drift racing you will get when you play CarX Drift Racing 2 on your PC! It is now your time to join the hundred million players worldwide and play the online mode to test how topnotch your skills are. This game mode allows you to play with friends or compete with millions of players globally in real time.
CarX Technologies LLC has definitely taken into consideration the feedback from their first street racing game. CarX Drift Racing 2 boasts a more hyper-real visual vehicle tuning such as replacing lights, mirrors, bumpers, and other parts. Adjust your suspension, tune the engine, and even customize your cars in this new and improved street racing game on PC!
4. Rebel Racing
Unleash the speed freak in you and take on elite racers in Rebel Racing, one of the street racing games from Hutch Games. This high-octane game features realistic steering physics, turbos, upgrades, and even true-to-life West Coast locations. With all of these, Rebel Racing is definitely a breath of fresh air for racer-wannabes! Get ready to collect and customize supercars and even build your own dream car!
5. Drift Clash Online Racing
Drift Clash Online Racing is unlike any other drift street racing game out there! Released by AKPublish pty ltd, this game involves real-time drifting with over 33 types of vehicles to choose from! Spice things up and burn rubber tires on the tracks. Battle it out with other players or team up with your friends in this immersive street racing game.
To make everything more interesting, Drift Clash Online Racing also includes drifting with motorcycles! This feat is a first amongst other street racing games. Enjoy competing with retro-themed cars and prove to the world you have what it takes to top the leaderboards!
6. Just Drift
From the name itself, Just Drift from Ali Can Arite is a drift street racing game. While this game does not have the best graphics compared to the competition, it has a charm of its own. Just Drift boasts a lightweight drifting experience with a sheer number of cars, tracks, and modes.
Albeit not as ultimately stunning as other street racing games, Just Drift will still deliver well in terms of drifting excitement. Compete with other global players and see who reigns supreme in the drifting world!
7. Drag Racing: Streets
Compete to be the best drag racer of all time when you play Drag Racing Streets! In this game, there are no actual car models involved, but you can build yours from scratch. Combine different aspects of various car models into one personalized vehicle. All parts are realistic so there are countless possibilities to build that dream race car of yours.
Drag Racing Streets, from the game developer Square, lets you race with other players on various tracks and even country roads. Remake your car's transmission from automatic to manual whenever you want. Join weekly street racing game tournaments and win great prizes!
8. Gear.Club – True Racing
Experience a hyper-realistic racing experience with Gear.Club True Racing from Eden Games. Unlike other street racing games, Gear.Club True Racing offers lifelike driving simulation. This makes each battle you take on the tracks seem like an actual race.
Here, you can build and develop the ultimate car of your dreams. Engineer its parts to give them a boost. Challenge friends and foes across the globe to race in unheard locations. Bring forth an immersive racing experience from the comfort of your computer screen!
9. Redline Rush Police Chase Racing
Think you can handle a speedy police car chase? Test your driving abilities and luck in Redline Rush Police Chase Racing. Published by DogByte Games, this street racing game features breathtaking visuals and a true-to-life car chase. Jump in your sports car, speed through the highway, and avoid raging traffic as you try to outrun the police car behind you.
Avoid crashing into other cars while driving at full speed. Pick up coins and power-ups along the way to boost your engine. Challenge your friends to see who can outrun the authorities better!
10. Need for Speed No Limits
Electronic Arts is renowned for its roster of breathtaking street racing games. Need for Speed No Limits is another one from its list of the best arsenal. It bears similarities with the Need for Speed Most Wanted game from the NFS franchise. However, NFS No Limits takes you down the realistic world of underground racing.
Build your ride, show your style, and take down the competition in the chaotic world of underground racing. Win your races to unlock several superb cars and customizations!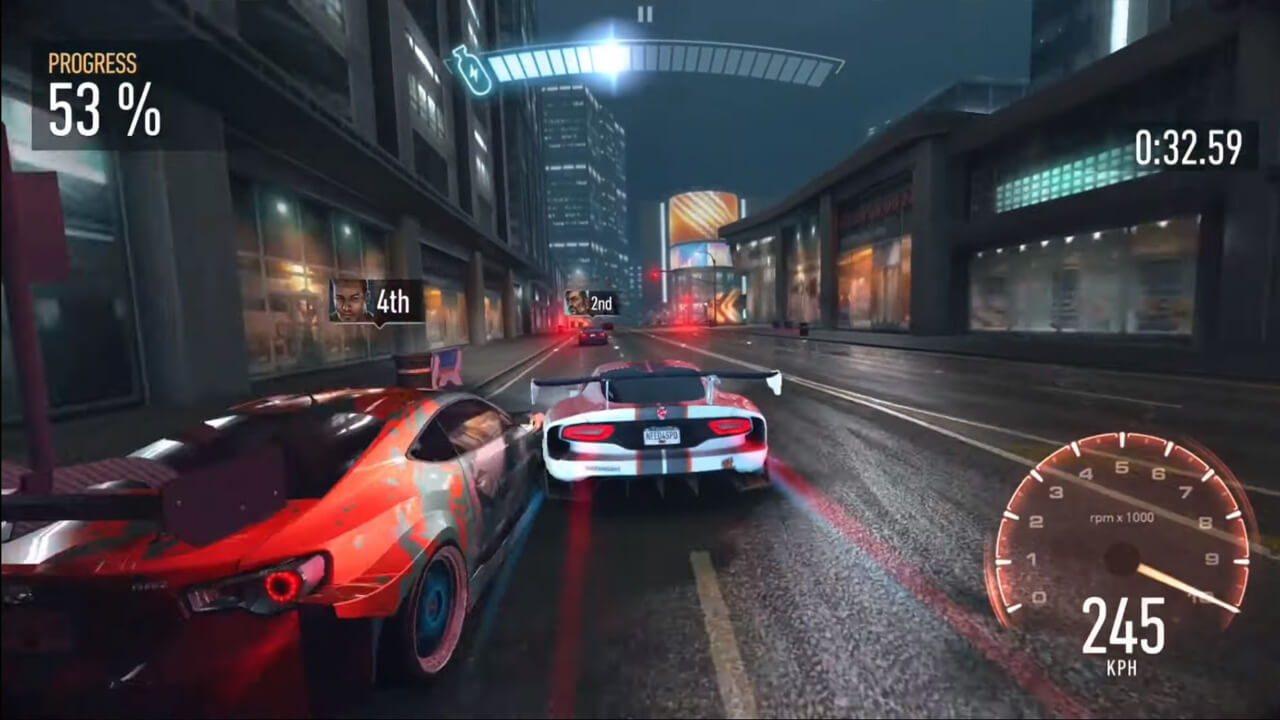 Street racing games are ideal for players looking for a kick of adrenaline in their system. Test your superior skills and quick reflexes, and prove to the world you are number one! Try the top 10 games we recommend for you to download and play here in Games.lol today!