Anime and video games share a lot in common. There are lots of character designers and writers collaborating in both industries. With companies producing their own anime games, it's only natural that this industry will grow. Some of these adaptations belong to genres like RPGs (role-playing games), absurd over-the-top action games, idle or simulation games, crime-solving novels, and many more.
So if you're looking for a video game fix, we have rounded up some awesome anime games you have to play today. Just simply have to take your pick!
The Best Anime Games to Play on PC
Below is a list of anime games we have curated just for you;
1. Dragon Ball Legends
Published by BANDAI NAMCO Entertainment, Dragon Ball Legends is an action RPG with high-quality 3D visuals and superb attack animations. It features characters from popular anime series including Goku, Gohan, Krilin, Vegeta, Trunks, and more. Aside from that, nefarious villains like Freeza, Cell, Majin Boo, and others also exist. Featuring a card-based combat system, Dragon Ball Legends will keep you invested in this action RPG.
Not only will you be immersed with the visuals and gameplay, but the storyline is also much better. There's sufficient character development among all the characters of the Dragon Ball universe. With that said, you'll have lots of fun playing this anime game.
2. Fate/Grand Order
If you love visual novels, you ought to check out Fate/Grand Order by Aniplex Inc. Just like Dragon Ball Legends, Fate/Grand Order features a card-based combat system. Albeit simplistic in approach, it requires deep tactical thinking. The high-definition 3D anime battles are pleasing to the eyes. Additionally, the game's futuristic end-of-the-world narrative is enthralling.
What makes this anime game more thrilling is its cockeyed interpretation of historical figures. Have you imagined Thomas Edison as a muscular anthropomorphous lion? It's unrealistic yet comedic which makes it difficult not to love Fate/Grand Order.
3. Princess Connect Re: Dive
Princess Connect Re: Dive is a Japanese RPG from Crunchyroll Games, LLC. Unlike other anime games, Princess Connect Re: Dive has a similar storyline and artwork as the animated series. Additionally, the game's cutscenes are captivating while the skill effects are eye-catching. Aside from a heroine protagonist, this Japanese RPG has different game modes including PVP and Co-op; both of which are balanced.
Crunchyroll didn't skimp out on the game's events either. Each one is very rewarding, especially for newbie players. Mix in some limited edition cutscenes, and the in-game events for Princess Connect Re: Dive are extra special. Last but not least is the anime game's dorm system where you can decorate your room to interact with characters in the game.
4. Honkai Impact 3
Honkai Impact 3 is the third installment of the popular anime game by miHoYo Limited. Arguably one of the best action RPGs out there, Honkai Impact 3 boasts highly advanced 3D graphics. Its animation, battle system, and skill effects are a sight to behold. Also, the voice acting paired with well-animated characters is as astounding as the game's engaging plot.
Despite being developed by a Taiwanese company, Honkai Impact 3 is as stunning as other Japanese anime games out there. If you fancy anime games with a dark narrative focusing on selected characters in Battlesuits, Honkai Impact 3 is not one to be missed out on! There's a mixture of hack n' slash, gacha, and role-playing here that will draw you into the game.
5. Valkyrie Connect
One of the most straightforward anime games nowadays is Valkyrie Connect. If you prefer a role-playing game with lesser learning curves, this game by Ateam Inc. could be for you. Valkyrie Connect features fast-paced gameplay with an easy combat system and unique skills and classes for each character. Ateam Inc. also made sure to host multiple events to help players speed up their progress. As such, Valkyrie Connect is among the lightweight play-to-win anime games in existence nowadays.
Grinding is essential to this game especially if you face stronger PVP opponents and as you meet more difficult foes in the campaign mode. Albeit that is the case, Valkyrie Connect features amazing voice acting and flashy animations. Each character's skill effects are rendered in impressive 3D graphics that are both spectacular and vibrant.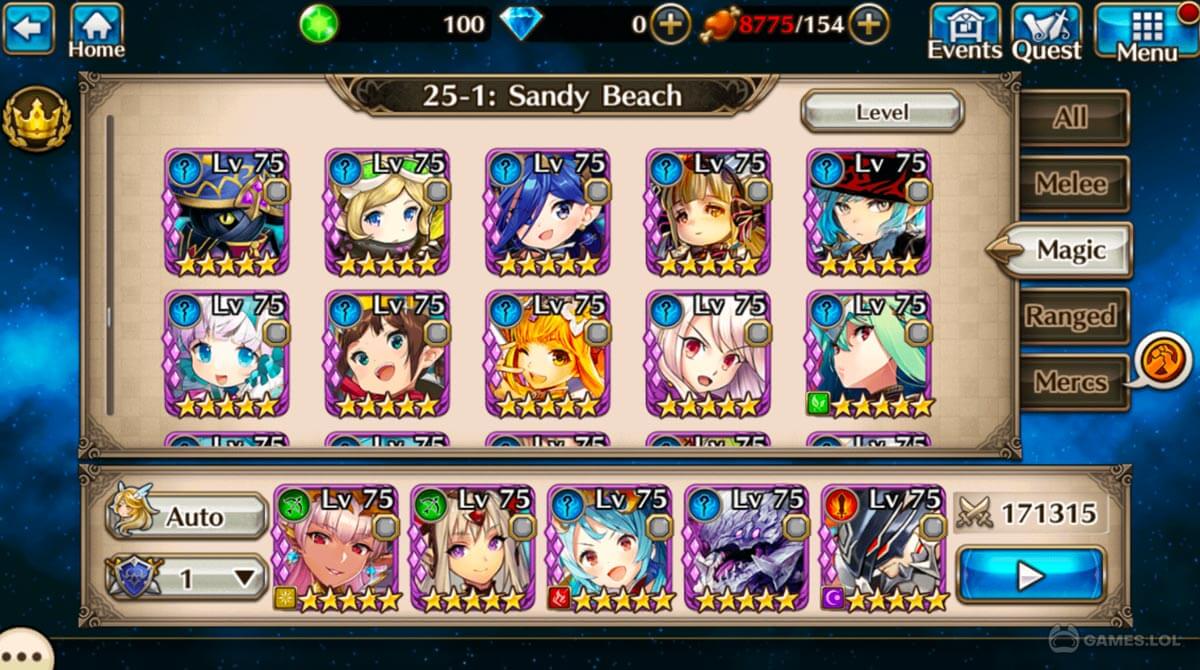 6. One Piece Treasure Cruise
Another anime game with gacha game mechanics is One Piece Treasure Cruise. Published by BANDAI NAMCO Entertainment, this is a free-to-play RPG set in the One Piece universe. Gameplay-wise, One Piece Treasure Cruise is a light-action RPG with a turn-based combat system. You need to form a team of 6 crew characters based on the shonen manga.
Having over 1000 characters to collect and summon, One Piece Treasure Cruise has one of the largest character bases to date. The combat system is rendered in 2D but in high definition. Not only that, the skill animations are pleasing to the eyes and the voice acting is splendid! This anime game also summarizes the narrative of the One Piece shonen manga as you go further through the storyline.
7. Bleach Brave Souls
Play as Ichigo and engage with a range of unique individuals as he travels to save the world from the invasion of the Hallows as a Soul Reaper. Combat is quick and exciting in Bleach Brave Souls, allowing you to avoid attacks, string up combinations, and showcase your skills as you take on the ominous Hallows. Immerse in story quests that would enable you to relive the anime.
Create alliances with your mates and reach the worldwide ranks. Participating in Co-Op tasks enables you to experience PvE with a maximum of three other players, or you may pick from a range of unique super-hard objectives to confront an even greater difficulty.
8. SAO Unleash Blading
Not only does SAO Unleash Blading PC include brand-new animation and aesthetics reminiscent of anime, but it also has its own Spirit Battle System. Moreover, the turn-based, classic anime RPG action is updated with a strategic element thanks to this fighting system. Gather the souls of fallen foes and use them to fuel your team's own devastating attack, or use them to counter enemy players' spirit strikes. In addition, this element molds engaging gameplay that is reminiscent of the anime.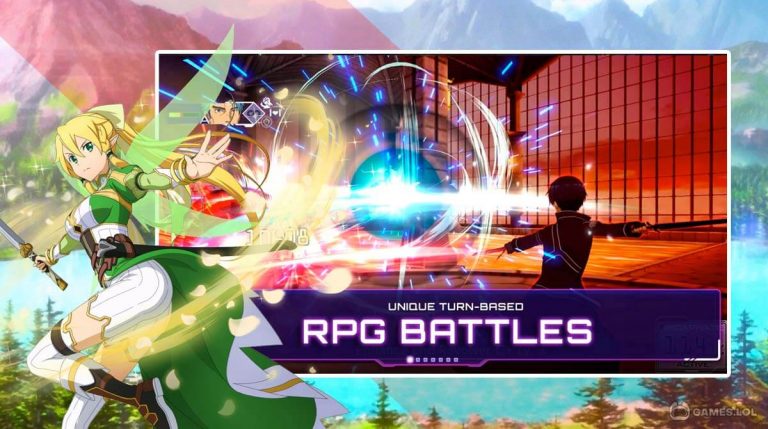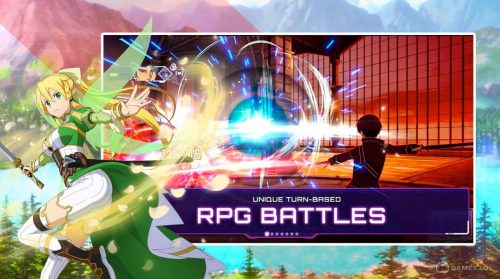 Are Anime Games Worth the Hype?
Video games adapted from manga or anime series are growing and taking the world by storm. While there has been little recognition in the past years, anime games nowadays have taken a big leap in many areas. Today, many anime games boast immersive story arcs, beautiful animation, astounding sound and skill effects, and engaging gameplay mechanics.
So, if you're looking for more anime games to play on PC, make sure to stay tuned here in Games.lol!