Let's admit it, even if ragdoll games make the most foolish and brutally-funny actions, they're indeed addictive and pretty hilarious to play. They bring a lot of entertainment because of their absurd yet extremely impressive game ideas. Since these games are mainly inclined to ragdoll physics and the human body, their overall gameplay revolves around freely controlling the movements of a floppy or lifeless human dummy. So be ready as these games will test your patience, wits, and logic.
What's even more interesting is you can now play these crazy ragdoll games on your PC! So, what are you waiting for? Check out our list of ragdoll games you can download them now!
The 10 Ragdoll Games to Play on PC
Below is a list of ragdoll games you'll enjoy on PC.
Happy Wheels
If you're fond of playing racing games with a crazy obstacle course, then Happy Wheels is for you! This ragdoll racing game is not the typical racing game with vehicles. It offers unique wheeled objects such as wheelchairs, bikes carrying a baby seat, and shopping carts, making your racing journey more lively, fun, and extraordinary. Of course, it will never be considered an obstacle race without crazy hurdles and obstacles blocking your way to the finish line.
Human Fall Flat
Human: Fall Flat is one of the funniest and craziest real-physics platformers you and your friends will surely love. Here, you'll take the role of a seamless wobbly human and explore a surreal world full of insane and tricky puzzle games. Jump, climb, maneuver, and carry objects as you take on the challenges. Furthermore, play along and discover some cool wobbly parkours. Lastly, utilize your best game strategy and find your way to exit!
Kick the Buddy
Do you always bottle up your emotions and cannot find a way to release your stress? Worry no more! Kick the Buddy allows you to meet a cute round-shaped doll who will help you relieve your stress. Get the chance to play with your doll inside a seamless and isolated room. Additionally, use your arsenals and do more exciting things with Buddy. After all, it's up to you if you will hit, kick or give it a rest after doing brutal actions with it.
Totally Reliable Delivery Service
Totally Reliable Delivery Service is another fun-filled yet challenging action-simulation game inclined with fun ragdoll physics. Although it looks like an easy peasy game at first glance, you should not keep your hopes up, as you can encounter the craziest situations here. Play the role of a delivery guy and provide services almost everywhere. Jump, climb, leap, sprint, and crawl as you carry on to your destination. Furthermore, brace yourself as more unexpected distractions may put you into insane trouble.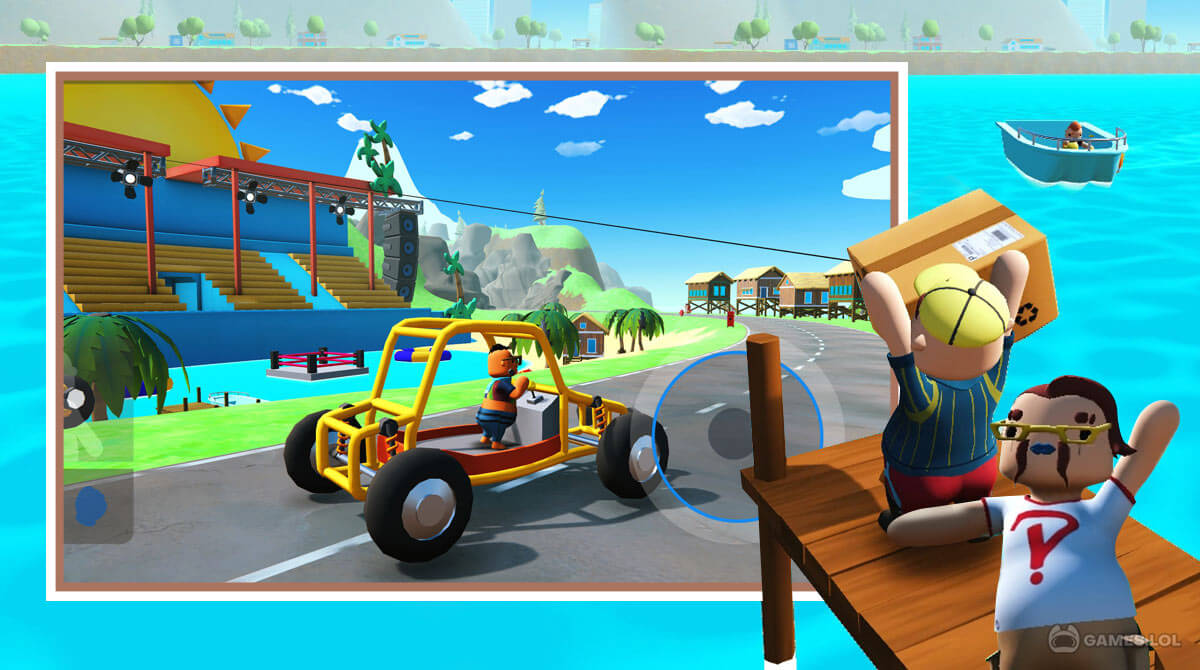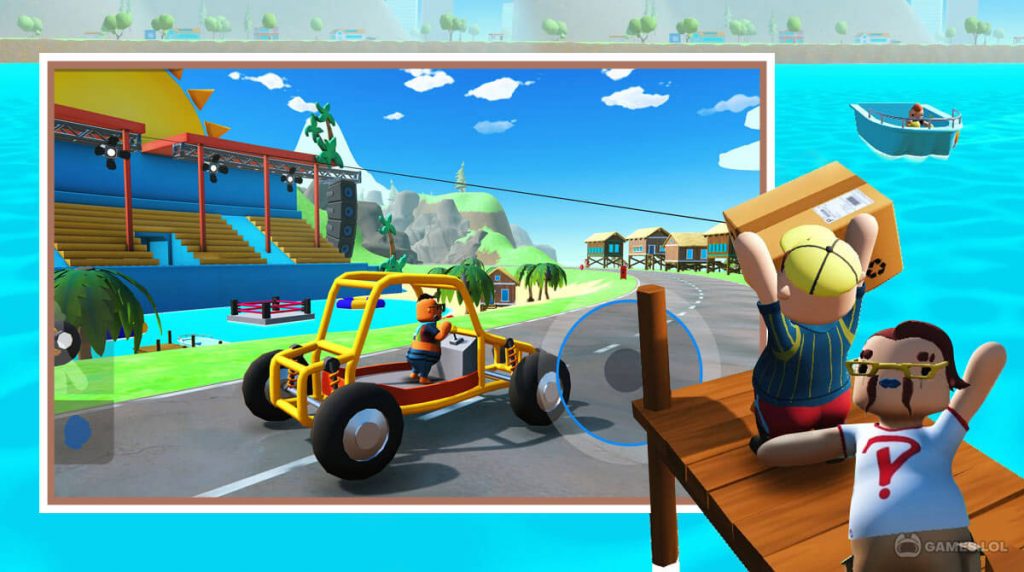 Stair Dismount
Engage yourself with fun and exciting ragdoll games like Stair Dismount. The game allows you to push Mr. Dismount. Make him fall down the stairs and wait for the crispiest sound effects as he falls. It has easy game mechanics. Apart from that, you can put a face on Mr Dismount to make it more engaging or leave him that way. The game also has many levels with multiple stair designs made for extreme damage, so you will not get bored.
Crazy Wheels
If you want a totally extreme and fun ragdoll-based sports game, Crazy Wheels will never disappoint you. It's easy to navigate and has simple mechanics but take note of this – reaching the finish line is not as easy as ABC! You need to have high concentration, memorization, and fast reflexes, or else you will die over and over again until you go insane. Will you be able to handle the brutality of this game? Take the challenge now!
Stickman Dismounting
Stickman Dismounting now welcomes you to a more destructing yet fun ragdoll game. This stickman game is not the typical one with a boring game interface. In fact, it's considered one of the best for having a Unity engine with a mixed touch of 2D sprite and 3D interface games. Although it does not have colorful graphics, you will surely enjoy the exciting challenges it offers. So bring your stickman to any vehicle and watch him fly off your screen.
Gumslinger
Gumslinger does not contain any sophisticated storyline and game mechanics. But it's a casual game suited for everyone who would like to destress. You may play it online or offline with an AI or fight against other real players. Your choice! The game also has various levels with obscure obstacles that await you. Choose your gummy fighter, enter the mini arena, and take advantage of all the objects in the area to knock down your opponents!
Flip Diving
Put on your goggles and ready yourself for the craziest diving techniques in the most breathtaking locations in Flip Diving. Enjoy the cool ragdoll-based diving game features and its vast collection of diving tricks such as reverses, front flips, backflips, and more. Not only that but the graphics and controls give you a more realistic diving experience. Take a deep breath and execute crazy flip-diving tricks in the comfort of your PC!
Ragdoll Cannon Blast
The zombie apocalypse has already invaded the city, and it's only you who can save your fellow citizens! In Ragdoll Cannon Blast, you will take the role of cannon master now. You have to take on challenges that get harder as you progress. Aside from that, you'll face several obstacles and objects that will trick you along the way. So, ready your blaster cannon, aim, and shoot these flesh-eating zombies. Eliminate them all at once, save innocent people and regain the glory of your city.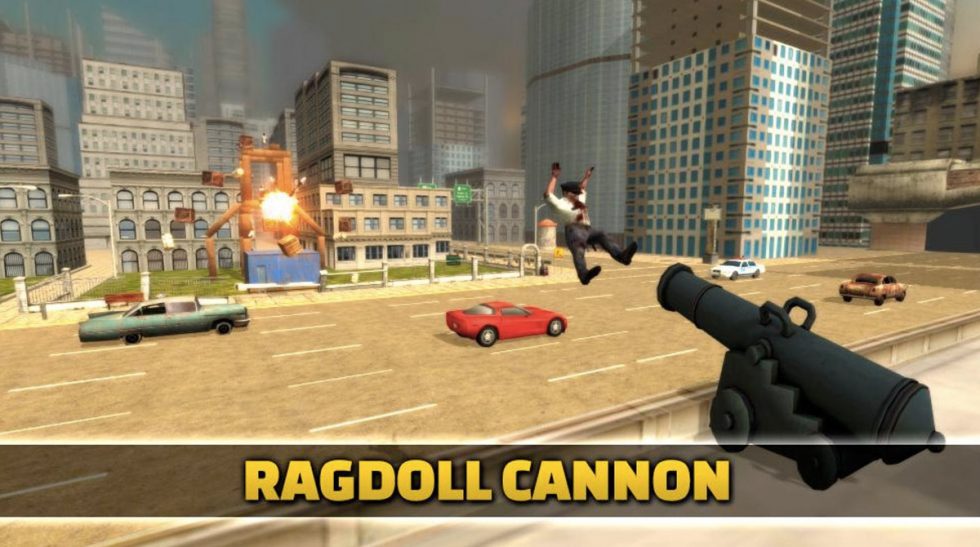 Which of the Ragdoll Games is the Best?
From the list above, what games get your attention the most? Feel free to download these fun-filled ragdoll games only here in Games.lol! Also, stay tuned for more updates and news about any of these games here!