A lot of zombie-themed or first-person shooter games may be ruling the gaming world roost these days. But other game categories are also a force to be reckoned with. Ninja games, specifically, also have a strong following in the gaming world nowadays. These stealthy groups of humans are spread out in a wide range of subcategories including puzzle, RPG, arcade, and action.  Ninja games are not only appealing in terms of gaming experience. But they also test one's stealthiness, reflexes, strategic skills, and timing. In fact, there's a wide array of games that deliver lively colors and detailed graphics as well as wonderful sound effects.
From brandishing katanas to throwing shurikens and even sporting stealth abilities, ninja video games are simply one of the most gratifying to play. These exciting video games help you quickly pass time, if not hook you for hours of gaming sessions. So, get ready to sheath your swords, attach your tenugui, and experience what it's like to be a video game shinobi. Check out our list below.
Clumsy Ninja
If you've come across games like Talking Tom, know that there is also a similar shinobi version called Clumsy Ninja. Instead of interacting with a cat on your screen, you are getting a fumbling but friendly shinobi. This masked hero can execute lots of actions including training with various paraphernalia, greeting friends, and even saying hello to you.
Clumsy Ninja does not have a voice repeat feature wherein the game reiterates what you said in another tone. There are other things you can do aside from jumping on the trampoline, playing catch with a ball, and even playing basketball. Here you can customize your shinobi's appearance, unlock new training objects, and even improve his karate belt. The graphics are spectacular and the controls are straightforward so playing Clumsy Ninja makes it a real treat.

Naruto X Boruto Ninja Voltage
Naruto X Boruto Ninja Voltage is a role-playing game set in the Hidden Leaf Village of the hit manganime, Naruto. Fans of the manganime will especially love playing this ninja game since they will be seeing familiar faces. Similar to the manganime, you need to assemble a team of four ninjas to complete missions and obtain territories from other players worldwide. Additionally, when playing Naruto X Boruto Ninja Voltage, you need to fend off intruders from invading. Prepare to set traps and other defensive mechanisms a la ninja style. Use each of your shinobi's skills and unleash your strategic prowess to attack or defend.

Ninjump
Ninjump is a simple ninja game with a straightforward objective – to help your shinobi reach the highest part of the building. Your ninja automatically jumps on one side of the building and moves to the other side with every click. With Ninjump, you need to evade all obstacles including blocking your enemies' attacks. The game may be repetitive but it gets really addictive since you can compete for the highest score against other players online.

Moe Ninja Girls
Featuring a more laid back approach, Moe Ninja Girls is a visual novel game with anime art-style graphics. You will role-play as the main character, an exchange student on her first day in school. Along the way, you will be meeting 2 classmates presenting different situations. When playing Moe Ninja Girls, your in-game choices alter how the narrative develops. Collect tickets to advance in the story and win exciting rewards or virtual card collectibles with the gacha system.

Ninja Warrior: Legend of Adventure Games
Armed with just a katana, Ninja Warrior: Legend of Adventure Games takes you on an epic but dangerous journey. This 2D ninja game will have you beating an entire army of nefarious monsters in a beautiful 2D background full of deadly entrapment. The simple gameplay and challenging quests of Ninja Warrior: Legend of Adventure Games make it enjoyable for players. As you progress, you can unlock newer and more powerful abilities to help you defeat more wicked bosses and open up new areas to explore.

Ninja Arashi 2
Aid a dauntless shinobi in his fight against evil beings, once again, in Ninja Arashi 2. This adventure ninja game takes you to a land where a sinister demon imprisoned you. After escaping, your shinobi needs to defeat various enemies to maintain his freedom. Overcome all obstacles and immerse in a deep storyline spread out over 4 acts. Just like its predecessor, Ninja Arashi 2 boasts amazing visuals, realistic movement physics, and intuitive controls to easily navigate throughout the game.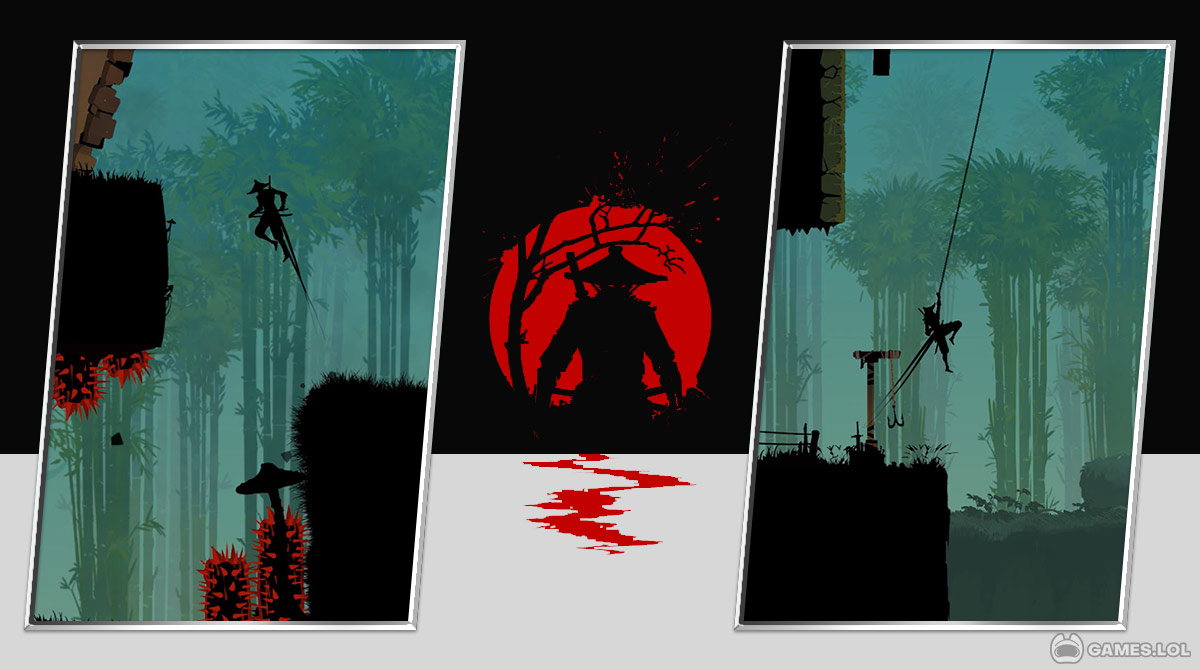 You may find several exciting ninja games out there. The ones on this list are classic shinobi games you shouldn't miss out on playing. Stay tuned to Games.lol for timely updates to this list and so much more. In the meantime, you can also check out our list of the best pirate games. Relive the good old days and play these retro games on your PC, too!